sciencely – the Humboldt-Universität's science app
Journey of discovery at U-Bahnhof Unter den Linden, the "Science Station"
The sciencely app transforms the Science Station at Unter den Linden in Berlin-Mitte into a space of discovery. The app invites you to playfully explore the exhibition from the Humboldt-Universität zu Berlin on the platform of the U6. Users can explore the exhibition's motifs and their significance in a visit to the station via chat, but also on the go and anywhere. You can chat with motifs from the exhibition via image recognition or by selecting them in the app. The exhibition's motifs, architectural details, monuments and even underground signs come to life during the journey of discovery with sciencely in Berlin-Mitte. Chat with a deep-sea diver, have a talk with a raccoon, or learn what a rubber duck can tell you about the ocean.
Now new: discover the main building with sciencely
With the app sciencely, the main building of Humboldt-Universität can now be explored. The app makes the statues in the Ehrenhof talk, brings the building to life and makes a discussion with a natural monument possible. Chat with Alexander and Wilhelm von Humboldt, discuss with Lise Meitner and delve into the topic of inclusion in a conversation with the doorstep.
Mankind in the Anthropocene – research on the human epoch
In the age of the Anthropocene, man has become the factor that definitively shapes the environment. In an artistic way, Nele Brönner's pictures of hidden objects address the central research projects of scientists at the Humboldt-Universität zu Berlin (HU) on the complex interactions between humans and nature.
The exhibition on the rear platform at Unter den Linden underground station features hidden object pictures and word clouds relating to six environments of our geological age. The hidden object pictures are 6.2 by 1.8 metres in size and include 669 terms and 258 picture elements.
The exhibition is a joint project from the Humboldt-Universität zu Berlin, the Schiel Projektgesellschaft, Studio TheGreenEyl, the Büro für prekäre Konzepte (Office for Precarious Concepts) and the illustrator Nele Brönner and was developed following a decision by/on behalf of the Berlin Senate.

Discover the underground station with a guide
Once a month, students from the Humboldt-Universität lead a tour through the exhibition. Experience the station with a guide.
The guided tours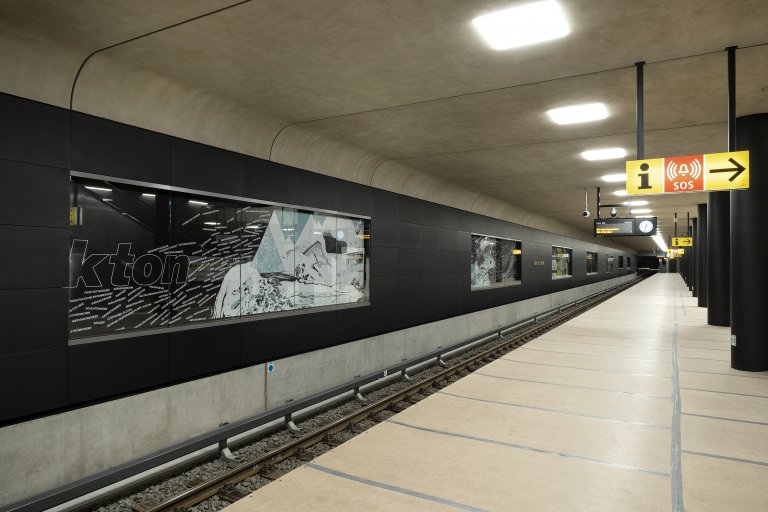 Share
Folgender Link wurde Ihrer Zwischenablage hinzugefügt. Sie können diesen jetzt nutzen, um ihn in Ihren Netzwerken zu teilen.